PLEASE 2 MINUTE VIDEO BELOW...
Contact your member of Congress to support The Parental Consent Act.
Congressman Ron Paul's Parental Consent Act 2009

In response to a federal push to screen all American children for "mental disorders" in schools, Congressman Ron Paul introduced the Parental Consent Act 2009 which prohibits federal funds from being used to establish or implement any universal mental health, psychiatric, or socioemotional screening programs in our schools. Considering there are currently bills before Congress which not only endorse and fund mental health screening of schoolchildren, but also establish school based health clinics to deliver such services, it is imperative that people urge their members of Congress to support the Parental Consent Act 2009.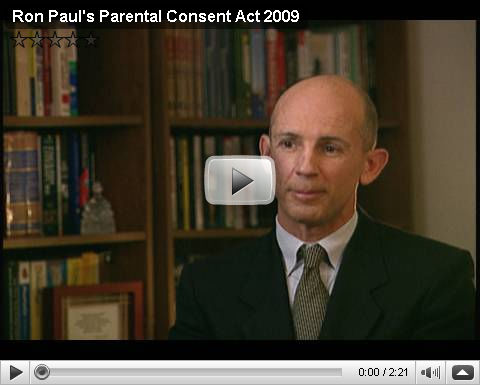 Click here for the interview with Kent Snyder, Presidential Campaign Manager for Ron Paul on The Parental Consent Act
Click here to read about the Parental Consent Act in this blog entry from author and psychologist, Dr. John Breeding.