Pharmalot - News, Comment & Conversation
The New Psychiatric Bible and Author Conflicts
More than half the 28 new members of writers of the next edition of the American Psychiatric Association's (APA) Diagnostic and Statistical Manual of Mental Disorders (DSM) have ties to the drug industry, according to the Center for Science in the Public Interest's Integrity in Science Watch.
The conflicts of interests were posted online by the APA last week (look here). They ranged from small to extensive. Leading the pack was William Carpenter Jr., director of Maryland Psychiatric Research Center at the University of Maryland, who over the past last five years worked as a consultant for 13 drugmakers, including Pfizer, Lilly, Wyeth, Merck, Astra Zeneca, and Bristol-Myers Squibb, according to CSPI.
APA president Carolyn B. Robinowitz claimed in a statement that "we have made every effort to ensure that DSM-V will be based on the best and latest scientific research, and to eliminate conflicts of interest in its development." The fifth DSM, which is produced in conjunction with the National Institute of Mental Health and will be published in 2012, is used by mental health professionals to classify mental illnesses, CSPI reminds us.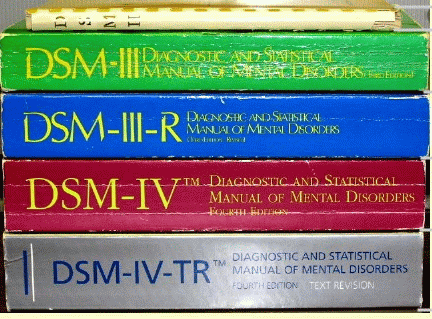 The Psychiatric Bible keeps getting fatter and fatter with more invented "disorders"
that need to be "treated" with psychceuticals
by pharmiatry.