U.K. study casts doubt on antidepressant drugs
Researchers find placebos work just as well in many patients
WASHINGTON - Antidepressant medications appear to help only very severely depressed people and work no better than placebos in many patients, British researchers said.
Researchers led by Irving Kirsch of the University of Hull reviewed a series of studies, both published and unpublished, on four antidepressants, examining the question of whether a person's response to these drugs hinged on how depressed they were before getting treatment.
They were Eli Lilly and Co.'s Prozac, also known as fluoxetine, Wyeth's Effexor, also called venlafaxine; GlaxoSmithKline's Paxil, also called Seroxat or paroxetine, and Bristol-Myers Squibb Co's drug Serzone, also called nefazodone, which it no longer markets in the United States.
,,, T
he researchers obtained data on all the clinical trials submitted to the U.S. Food and Drug Administration for the licensing of the four drugs.
"Although patients get better when they take antidepressants, they also get better when they take a placebo, and the difference in improvement is not very great. This means that depressed people can improve without chemical treatments," Kirsch said in a statement.
---

Prozac, used by 40m people, does not work say scientists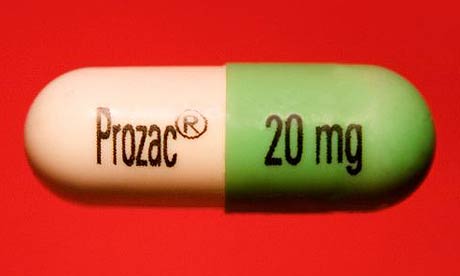 The study examined all available data on the drugs, including results from clinical trials that the manufacturers chose not to publish at the time. The trials compared the effect on patients taking the drugs with those given a placebo or sugar pill.
... "Given these results, there seems little reason to prescribe antidepressant medication to any but the most severely depressed patients, unless alternative treatments have failed," says Kirsch. "This study raises serious issues that need to be addressed surrounding drug licensing and how drug trial data is reported."
The paper, published today in the journal PLoS (Public Library of Science) Medicine, is likely to have a significant impact on the prescribing of the drugs. The National Institute for Health and Clinical Excellence (Nice) already recommends that counselling should be tried before doctors prescribe antidepressants. Kirsch, who was one of the consultants for the guidelines, says the new analysis "would suggest that the prescription of antidepressant medications might be restricted even more".
The review breaks new ground because Kirsch and his colleagues have obtained for the first time what they believe is a full set of trial data for four antidepressants.
They requested the full data under freedom of information rules from the Food and Drug Administration, which licenses medicines in the US and requires all data when it makes a decision.
More here: http://www.guardian.co.uk/society/2008/feb/26/mentalhealth.medicalresearch