It now has over 1,

6

50

entries.
Florida law defines psychotherapist as a psychiatrist, psychologist, school psychologist, mental health counselor, social worker or marriage counselor.
We've worked on compiling discipline reports

from

the Department of Health

and we

are

also

working on compiling public records from various sources including criminal cases, lawsuits, etc.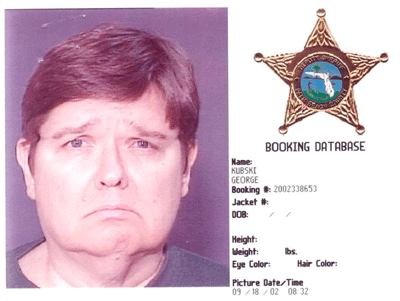 This is an ongoing project and your support is appreciated.
Some items of interest from Florida:
---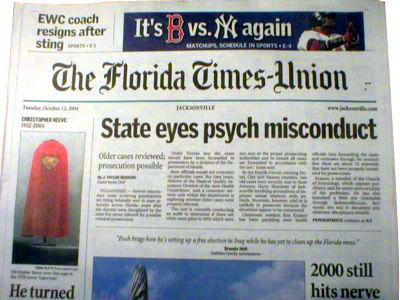 "I have one message for criminal psychotherapists in this state. The Department of Health is now coming after you."
---
The Miami Herald
ACTION LINE
Alert

-

Check Out Experts in Mental Health


A new website,

www.PsychSearch.net

, has been launched to help journalists, law enforcement, insurance investigators and citizens gain ready access to governmental reports on mental health practitioners in the state of Florida.

The website contains disciplinary records from the state Department of Health on psychiatrists, psychologists, mental health counselors, marriage counselors and clinical social workers. These reports cover medical incompetence, misprescribing drugs, sexual misconduct, criminal convictions, ethical lapses and other offenses.

When this phase of report gathering is complete, the site will expand to include reports from various law enforcement agencies, the Drug Enforcement Agency, the Food and Drug Administration and Medicare/Medicaid.
---
---
RADIO
Alternative Mainstream Wednesdays - 9 PM ET
A radio program dedicated to exposing the dangers of psychiatry and mind-altering drugs and solutions for behavioral problems
Dr. Sal Martingano D.C. & Dr. Lee Sheldon
---
TeenScreen
---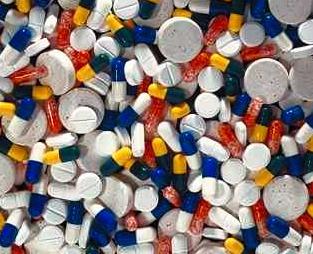 http://tinyurl.com/yvsfxb A public school may not deny any student access to programs or services because the parent of the student has refused to place the student on psychotropic medication.
---
NAMI EXPOSED
---